Products
Application
Contact us
Factory name: Jiangsu Zhongtai Packing Machinery Co.,Ltd.
Address: No. 16, Heshan Ring Road, Jintan District, Changzhou City, Jiangsu Province, China
Fax: 0086-519-82113618
Andy Lu
Fiona
Toilet Cleaner / Harpic Filling Machine
Toilet Cleaner Harpic Dark Type Filling Nozzles Design Can Suitable For Low Viscous And High Viscous Liquids Filling With High Accuracy And Non Corrosive Feature
Toilet Cleaner Harpic Dark Type Filling Nozzles Design Can Suitable For Low Viscous And High Viscous Liquids Filling With High Accuracy And Non Corrosive Feature
Machine Name : Full Automatic Toilet Cleaner / Harpic Filling Machine
Type: ZGP-G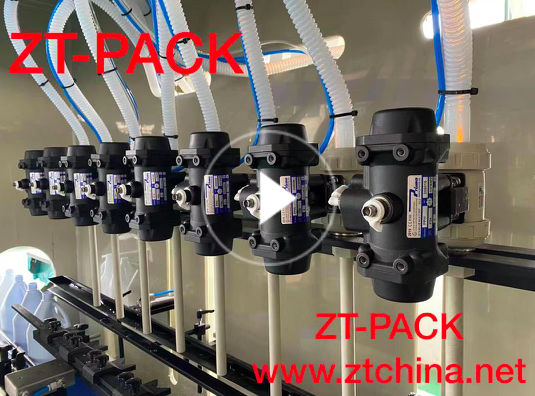 Machine Description :
Automatic corrosive filler is engineered to withstand harsh liquid and environments. Each filling machine is built from corrosive resistant plastic material custom to tolerate the corrosive environments and suited to the products they intended for including not only chemical plants producing strong acids, pesticide and bleach but also food plants using brine or sugar solutions in their products. In both cases, even the factory air alone contributes to the accelerated degradation of the machinery.
Empty containers are conveyed to the corrosive liquid filling machinery through an plastic conveyor, The in- gate cylinder opens, out-gate cylinder closes. the inlet sensor detects quantity of bottles. After set quantity bottles are positioned under filling nozzle, Bottle neck grabbers hold bottle in position.the fill cycle is initiated, After completing the filling operation,the out-gate cylinder withdraws itself from its position and allows the filled bottles to go further on the conveyor for the sealing operations. To minimize foaming, Diving head is available, nozzles will go upwards slowly from bottom level of bottles towards neck during filling. No container no filling system arrangement is standard feature of the machine. The main drive of the machine and conveyor drive consist of AC motor with synchronized variable frequency drive.
Suitable To Fill :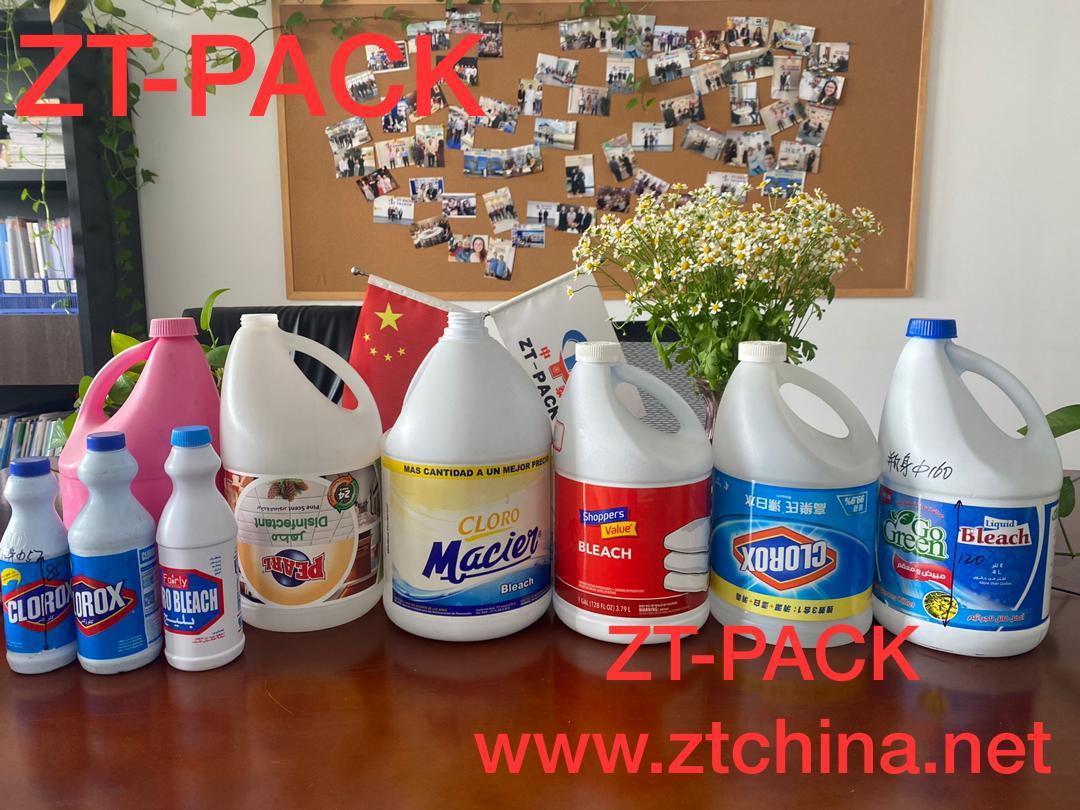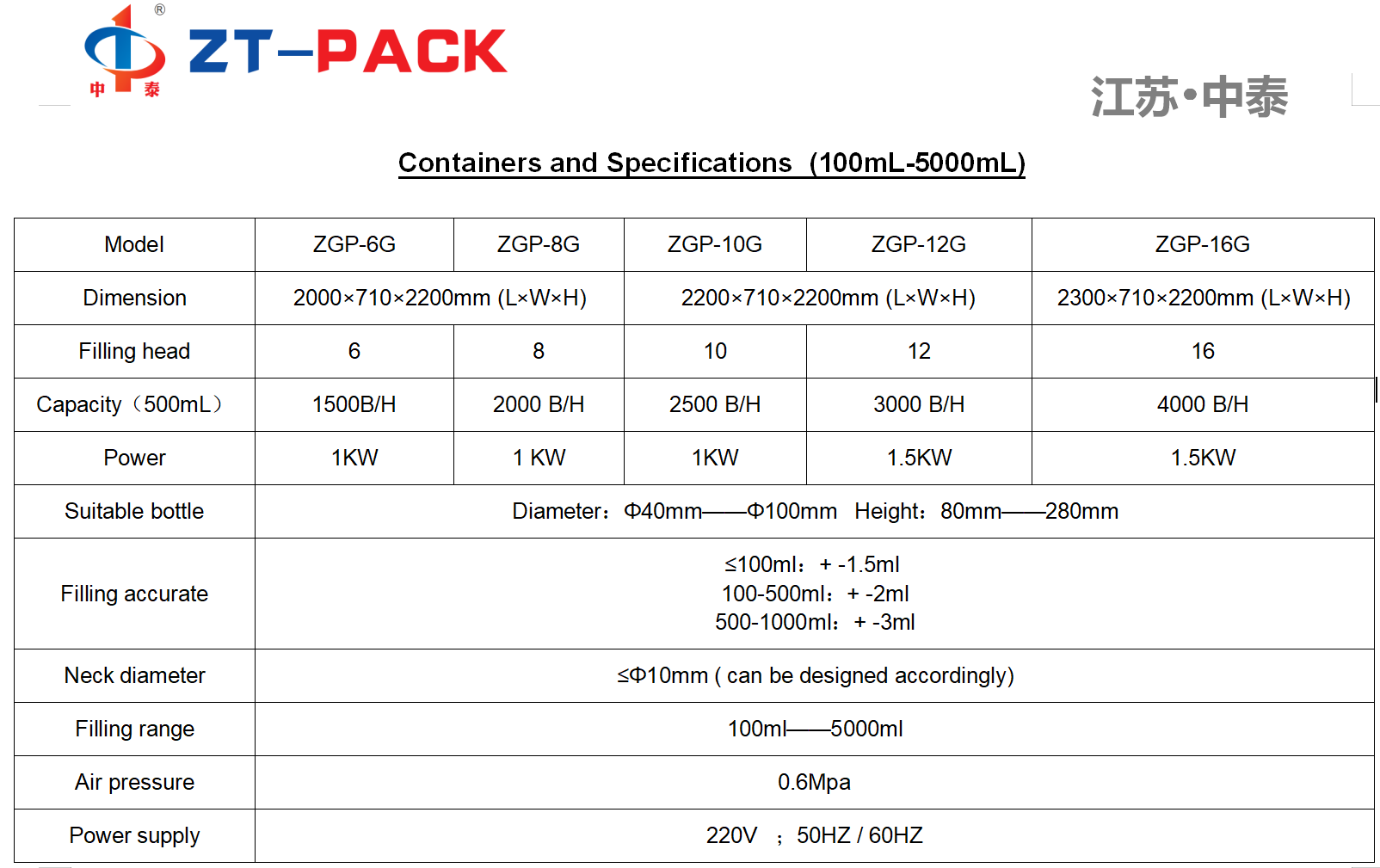  Specifications are subject to change without notice, All rights are reserved.
Major characteristics :
This non-metal filling machine specially designed for strong acid and alkali product, such as: hydrochloric acid products bleach.
(1)PLC controlled, friendly touch screen control.
(2) Famous brand electrical and pneumatic components used to guarantee machines quality and long life service time.
(3) Vacuum suck back for dripping can be special designed for foamy product.
(4) All wetted parts are made of non-metal materials, anti-corrosion.
(5)Not only whole filling heads can be adjusted, but each filling head can be fine-adjusted respectively.
(6)Bottle inlet counting, quantitative filling, bottle outlet counting, and serious motions can be done automatically.
(7)Simple structure, easy operation, Low noise, reliable running, accurate filling.
Details Pictures :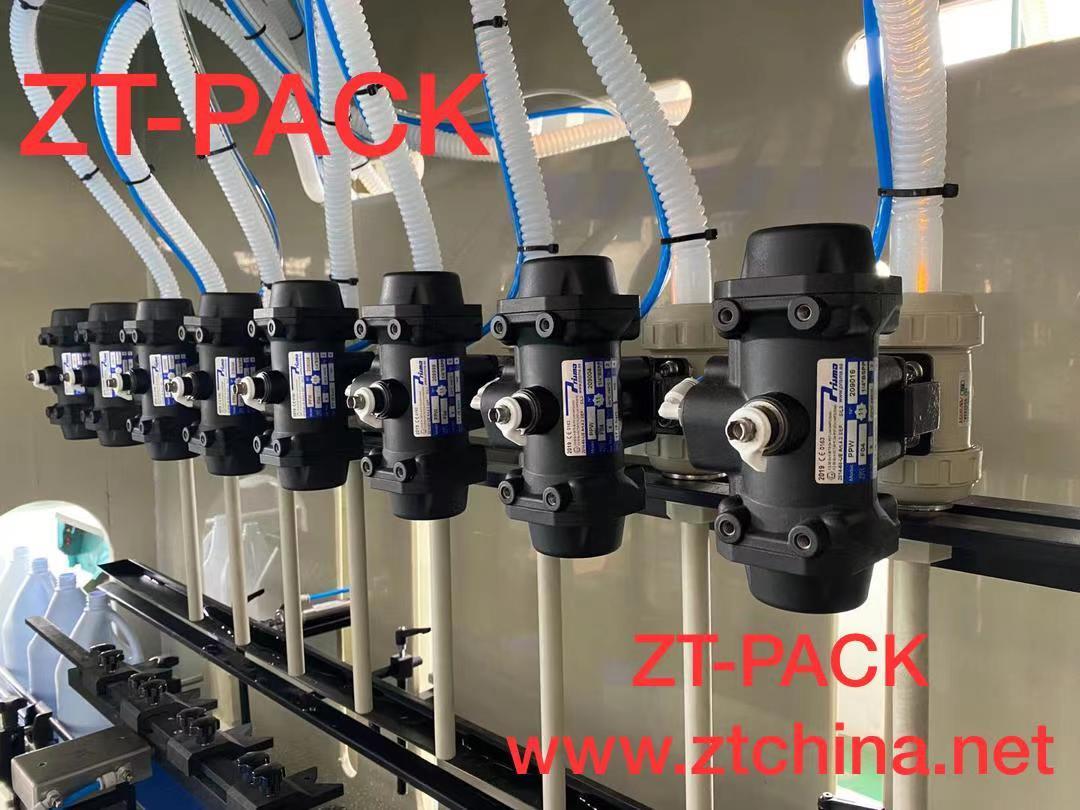 Key Features:
 Heavy duty plastic construction
 Controls PVC / Polyurethane Contact Parts
 Plastic reservoir
 Acid resistant tabletop chain
 Automatic product level sensing float system
 Safety guarding
 Easily adjustable nozzle height settings accommodate different height containers
 Pneumatic indexing gates (count in, count out)
 Able to output multiple doses per container for large containers
 User friendly PLC controls with touch screen HMI
 Easy clean stainless steel quick connect fittings
 Neck grabbers for containers wtih small opening
 No bottle/No fill
Available Options :
 Various indexing systems – pin or gate,timing screw,starwheel and shuttle
 Diving heads nozzles for bottom up filling to reduce foam
 Drip Tray
How to choose corrosive liquid filling machine
Output depends on fill size,viscosity of the liquid and type of container,Available with 6, 8, 10, 12 and 16 filling head. if you are unsure how to choose, please let us know and our professional team will give you specific advice on the best filing machine to fit your requirements.
 What product to fill
 What output capacity to achieve
 What material and shape of containers
 What size to fill

Related Products
undefined
Online Message