Products
Application
Contact us
Factory name: Jiangsu Zhongtai Packing Machinery Co.,Ltd.
Address: No. 16, Heshan Ring Road, Jintan District, Changzhou City, Jiangsu Province, China
Fax: 0086-519-82113618
Andy Lu
Fiona
Robert packing and palletizer for finished products and cartons.
Major characteristics:
The robot palletizer can be used in many production line, providing intelligent, mechanization for production site. It is a palletising logistic system which can be used in the industries of beer, water, soft drink, milk, beverage and foodstuff etc. It is widely used for carton, plastic crate, bottle, bag, barrel, shrink wrapped product and can etc.
Main Features:
A. Ttouch-screen operation achieves man-machine communication, displaying the production speed, failure reason and position.
B. The product palletizing patterns, pallet supply and discharging can all be programmed by PLC.
C. Palletizing pattern is easy to adjust on the touchscreen.
D. Carton supply system adopts brake motor control to ensure carton conveying according to pre-set position.
E. Pallet magazine has a high capacity of 12-15 empty pallet ensuring automatically pallet supply.
F. Different palletizing patterns can be finished without replacing the palletizing components.
Reliability - long uptime
Fast - Short cycle times, the robot is specially optimized for packaging application.
High precision - components production is in high quality and stability so that the robots has a very high accuracy.
Strong function - a wide range of applications.
Versatility - Flexible integration and production.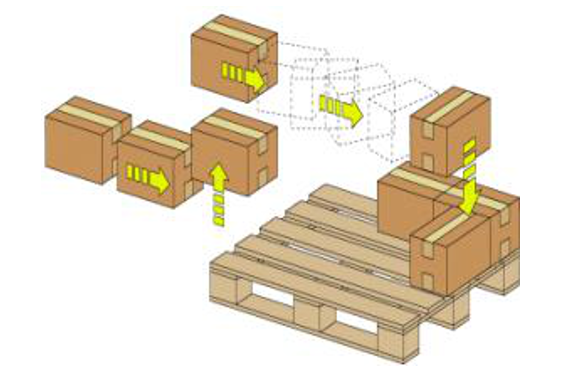 Related Products
undefined
Online Message