Products
Application
Contact us
Factory name: Jiangsu Zhongtai Packing Machinery Co.,Ltd.
Address: No. 16, Heshan Ring Road, Jintan District, Changzhou City, Jiangsu Province, China
Fax: 0086-519-82113618
Andy Lu
Fiona
Rotary Machine (Monoblock )
Characteristics:
1. Using the wind sent access and move wheel in the bottle directly connected technology; canceled screw and conveyor chains, this enable the change the bottle-shaped become easier.
2. Bottles transmission adopt clip bottleneck technology, bottle-shaped transform not need to adjust the equipment level, only change related the curved plate, wheel and nylon parts is enough..
3. High-speed large gravity flow valve filling valve, filling fast, filling accurate and no liquid lose.
4. Spiraling decline when output bottle, transform bottle shape no need to adjust the height of conveyor chains.
5. Host adopt advanced PLC automatic control technology, the key electrical components from famous company such as Japan\'s Mitsubishi, France Schneider, OMRON.Main performance parameter:
| | |
| --- | --- |
| Dimension (L*W*H) | 3500mm*2500mm*2650mm |
| Filling head | 32 |
| Capping head | 8 |
| Suitable bottle | Φ40mm-Φ110mm |
| Height | 80mm-320mm |
| Packaging specification | 50ml-1000ml |
| Production capacity | ≤8000b/h |
| Filling error | 50-200m<±1ml , 200ml -1000ml < ±2ml |
| Power supply | AC380V |
| Main machine power | 7KW |
| Air consumption | 0.4-0.65MPa clean and stable compressed air |
Description:This is our traditional 2 in 1 machine, apply to100~1000 roundand irregular bottles. The advantage of this machine is compact design, easy operation, simple maintenace, accessories have long service life. Working stable and high accuracy, the outer frame are all high quality stainless steel, meet GMP standard. Major characteristics: :
1、Rotary piston filling and capping machine is new-generation quantitative filler.
2、This machine is suitable for foodstuff, medicinal, cosmetic, chemical industry and pesticide industry.
3、Filling part controlled by PLC and touch screen, adopt piston to filling.
4、Capping part with inlet bottle, sorting cap, feeder cap, capping and outlet bottle.Dispatch cap in high speed. Bottle and cap synchronous operation. With supermatic productivity and high automation, the rotary piston machine is new-generation quantitative filler.  This machine is an integration of mechanics and electrics. It is automatically controlled by PLC and touch screen controlled panel. It is an ideal model which integrates mechanical, electrical, light and gas.The machine has exceeded the top level of the similar type of machine. This machine's capping part with inlet bottle, sorting cap, and capping and outlet bottle. Bottle and cap are not injured; it can compare beauty with the foreign similar products. Component with long time, running stable, low noise, large usable range, high efficiency. The surface has been polished, this machine adopts stepless adjust.It is an idea for small, medium, large packaging workshop. In during the work, the key parts are protected. If there is anything abnormal it will automatically stop and alarm, then the touch screen will hint the abnormal part's whereabouts its efficiency design of water-proof frame and pneumatic motion ensure it's sanitary.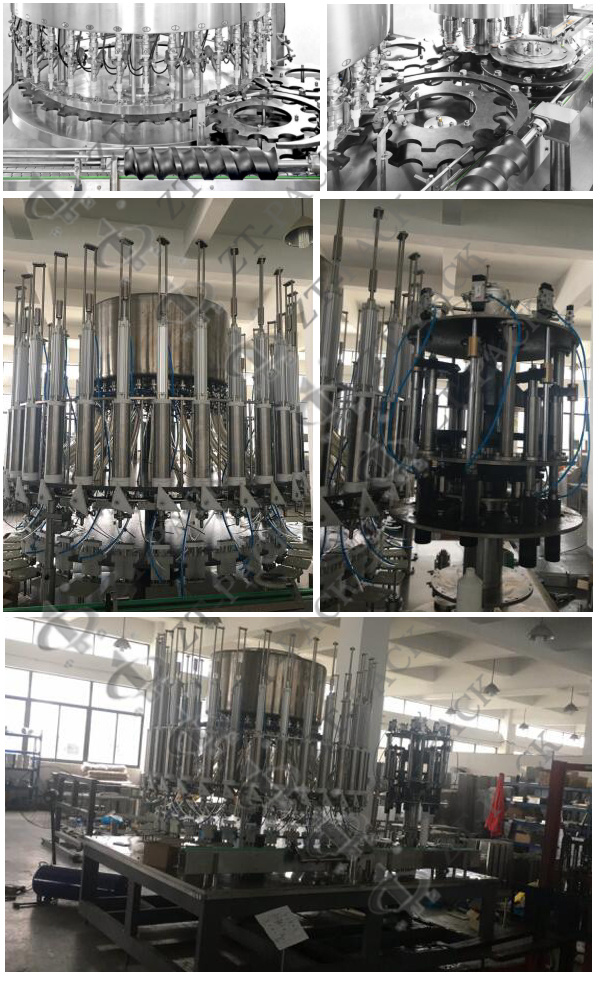 Related Products
undefined
Online Message